Ortho-Natural Wool Insoles
[snippet slug="about" /]
Overview
These are high intrinsic value insoles. That means that they are made from high value, high cost materials and are finely crafted here in Canada by people with a deep knowledge of orthotic solutions for feet.
Chenna Baree was successfully funded on Kickstarter in March of 2018. Our Canadian Grey insoles are now available for general purchase on our website. Merino wool are available by special order only. Contact us if you have any questions: info@chennabaree.com.
Story
Ortho-Natural Wool Insoles Ethically Made
We believe that Chenna Baree ortho-natural insoles should be on the shelves as an ethical alternative to plastic insoles being sold in many stores.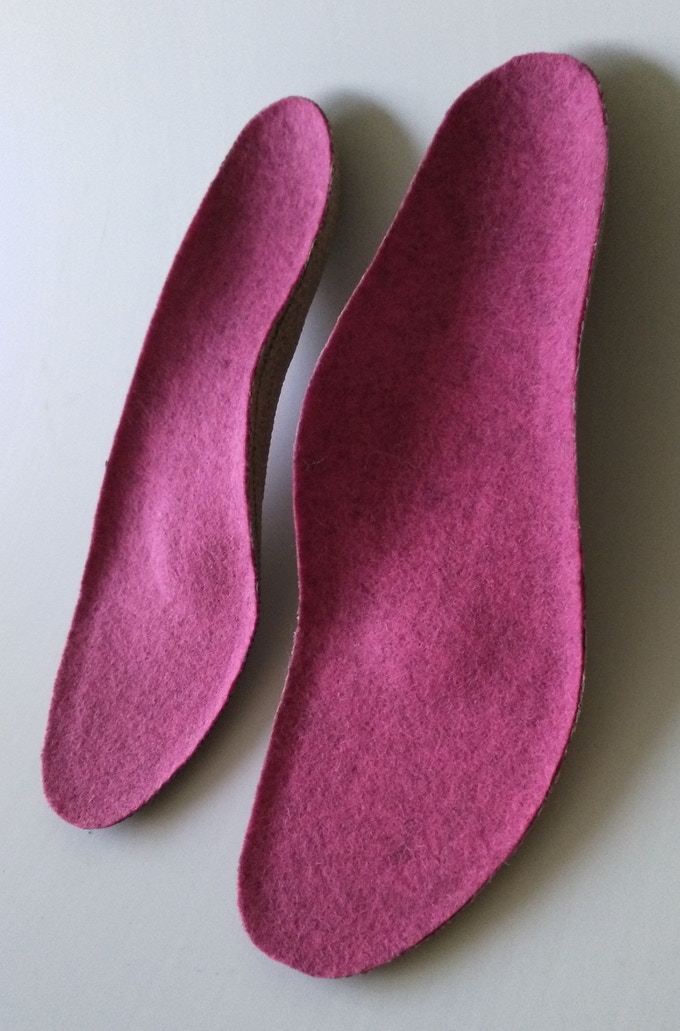 Main Features
ethically made in Canada by us!
100% wool high quality felts, natural biodegradable rubber & jute
proprietary orthotic mold based on years of experience
highly breathable
auto moldable – the more you wear them, the more they conform
naturally anti-bacterial/anti-microbial (don't stink)
warm in the winter
cool in the summer, barefoot friendly
full sizes for accurate fit
completely biodegradable, no plastics added to the landfill
Come and stay
Fads come and go. Our intention is to create a product that will withstand the test of time and be here to stay. We want to be the go-to alternative to plastic based, off the shelf, orthotic insoles. And we want to be a whole lot better for your feet.
What this campaign means
Great results from this campaign will allow us to buy equipment and to build a dedicated production facility. Our technology is very scalable which means we can start off small and grow as demand increases. We want to start a small factory. Your support will help make that happen.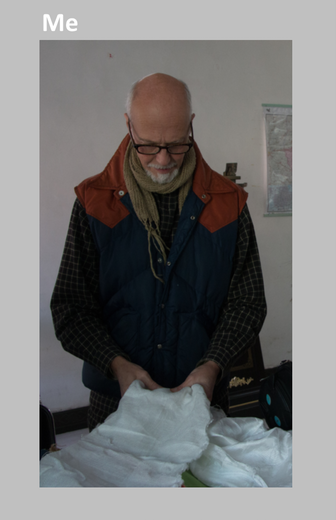 I have spent the better part of my working life as a foot specialist. I am a craftsman. I am a custom shoemaker and I have made thousands of custom insoles for people with foot problems. I have no interest in producing a gimmick. I want to make things with high intrinsic value and lasting design. In this pursuit, I wish to also make a contribution to the environment.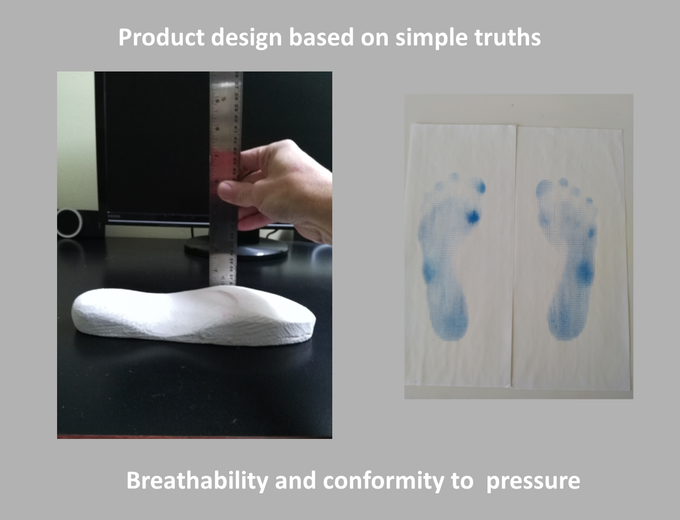 This project is inspired by my last Kickstarter project which was about the Chenna Baree Earth Conscious Shoes. My bottom line is that I want to make superior products that are as earth conscious as possible. These insoles are entirely made in Canada. Of course I would love to produce shoes in Canada, but that is another story.
For the shoes I paid a big premium for using real natural rubber which is entirely compost-able. I wanted to use natural fibre and plant based materials if possible. I became fascinated with rubber, and indeed it is a marvellous story and a far more important commodity than you might think. I wondered… would it be possible to use natural materials in a new way to replace all the plastic that insoles are typically made of? That question is what gave birth to these insoles.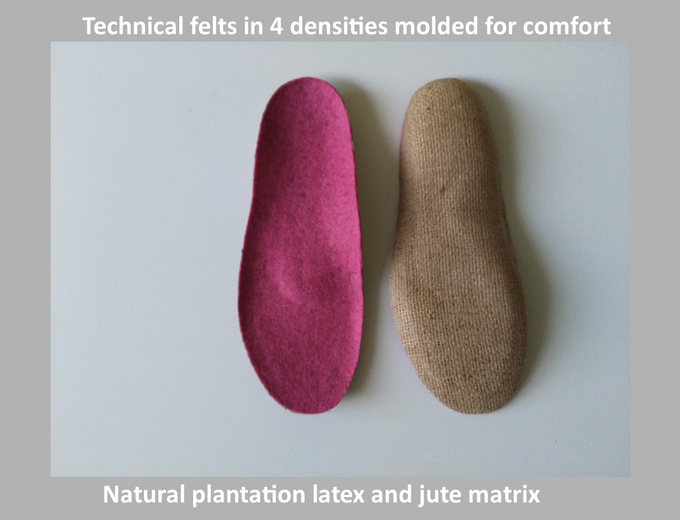 All that reading about rubber paid off. My first trials exceeded my expectations and within a comparatively short time I had my prototypes and I had nailed down a process for making them. Here they are again: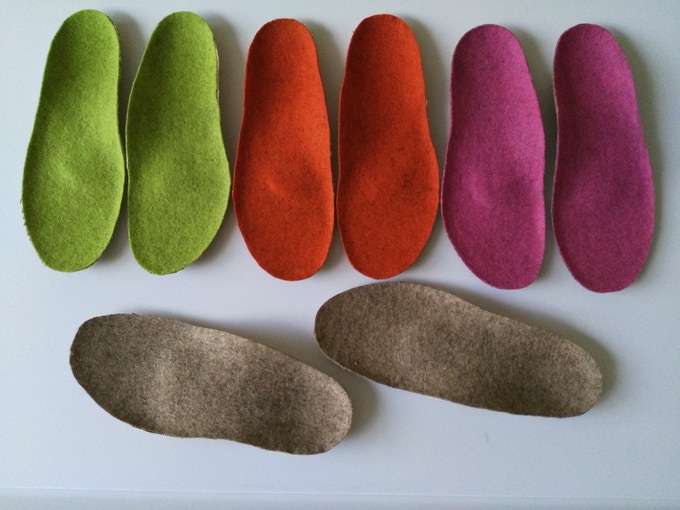 About the felts
There are four different kinds of felt that are used. They are all very high end dense fibre felts. Each felt has its own properties. The top felt should be durable and also have a high lanolin content. It is the lanolin content of wool that gives it its anti-bacterial/anti-microbial properties. In other words they don't stink like plastic. The middle layer is more moldable, and the support layer is thin and firm.
You will choose from two different top felts: German Marino or Canadian Griege.
German Marino wools are colorful, light, soft and the most moldable. These felts are certified to have no harmful substances (OEKO-TEX® certified). They are slightly thinner than the Canadian Griege and are your only choice if you want the gorgeous colors.
Canadian Griege (un-dyed natural) is made from Canadian Wool. It is a high density hard wearing felt with a high lanolin content. It is exceptionally breathable. Though it takes longer to mold, it holds its shape well. In my opinion Canadian Griege is a superior longer lasting material.
Washing the insoles
Hand wash the insoles in luke warm water. If you want to sterilize them, hydrogen peroxide will do a great job of cleaning them without harming the felt.
A discussion about design
I have a lot to say when it comes to feet and insoles. I do not want to clutter this campaign with more information than you need. But I know that there are some people who always like to know more. Here is a video in which I discuss and talk about my ideas about good design.